A film that's shot by the killer himself, Dillon Mason, who grew tired of being ignored and abandoned because of his horrific skin cancer that scared everyone away; his best friend, his girlfriend, and even kicked out of school by his teacher. Now, Dillon seeks to uncover this rage, this insanity that frees the beast from in himself, seeking revenge, but hellbent on what his change means...how torturing a victim is his thought, how blood is his paint, how dismemberment and decor of his corpses are his masterpieces!
TABLE OF CONTENTS: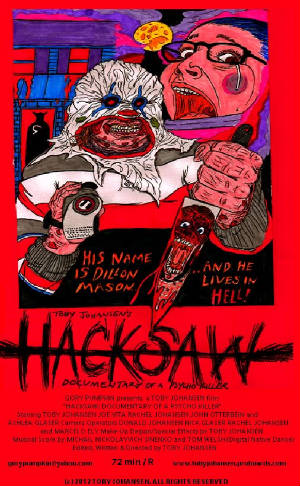 Hacksaw: Documentary of a Psycho Killer (2012)
Starring: Toby Johansen, Joe Vita, Rachel Johansen, John Otterbien, Ashlea Glaser, and Muggle as "Gus the puppy"
Genre: Horror / 80s Slasher / Artsy / Psychological / Splatter

Camera Operators: Toby Johansen, Donny Johansen, Nick Glaser, Rachel Johansen, Marcelo Ely

Makeup/Special Effects: Toby Johansen

Hacksaw Theme: Michail Sinenko

Score: Tom Welsh (DigitalNativeDance)

Editor/Writer/Director: Toby Johansen