A monstrous, blood-thirsty vampire stalks and terrorizes an odd and suspicious man who has a troublesome past with his ex-fiance.
TABLE OF CONTENTS:
CLICK IMAGE TO ORDER VAMPYR OBSCURE
PRE-PURCHASE IS NOT CURRENTLY AVAILABLE.





CLICK HERE TO WATCH THE PREMIERE AT EXTREME HORROR CINEMA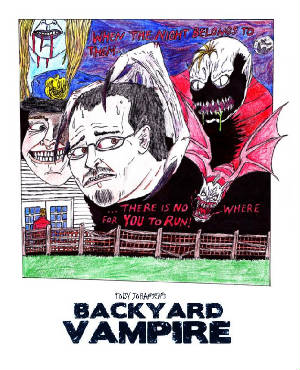 Backyard Vampire (2013)
Release Date: July 5, 2013

Genre: Horror / Vampire / Splatter
Starring: Cory Baldwin, Rachel Johansen, Michael Neverman, Torre Johansen, Cidney Burton, Erica H. Majors, Jaggar Johansen, Donny Johansen, and Toby Johansen as "Meathead"

Makeup/Special Effects: Toby Johansen and Erica H. Majors
Music By: Brett Montez

REVIEWS: